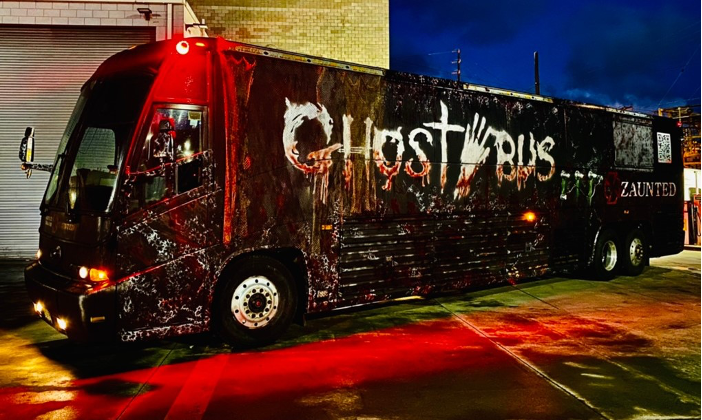 Honolulu, HI – (Wednesday, October 20, 2021) JTB Hawaii and Travel Plaza Transportation proudly present "Ghost Bus Hawaii" for the very first time in Honolulu. The grand opening will be held on Friday, October 29, 2021, at 152 Ohua Avenue at the corner of Kuhio and Ohua Avenues, across from the Waikiki Beach Marriott Resort & Spa main entrance.
Since 1964, JTB Hawaii has been an active member of the Hawaii community facilitating travel and cultural experiences to and from Japan. And now, JTB Hawaii is introducing a facet of Japanese culture called "Obake Yashiki" (Japanese Haunted House) to the United States starting right here in Hawaii.
"JTB Hawaii wanted to do something exciting and positive for the local community as we have all faced difficulties and challenges due to the COVID pandemic," said Hiroyuki Kitagawa, President & CEO of JTB Hawaii, Inc. "We think Ghost Bus Hawaii will be a fun entertainment activity for everyone to enjoy – and just in time for Halloween and the upcoming holiday season. We have worked hard to make the Ghost Bus as safe as possible and are following all of the current mandates. We hope many people in Hawaii will come to experience the unique, Japanese-style 'Obake Yashiki' and enjoy the Ghost Bus!"
with the assistance of Japanese horror master Michaelty Yamaguchi, Ghost Bus Hawaii is a very unique "haunted house" built inside a stationary, dark, horrifying bus. The Ghost Bus doesn't actually drive anywhere, but utilizes audio-visual sensory effects and incorporates live actors to transport passengers to a scary dimension, and provides the unique Japanese horror experience that has taken the world by storm.
These horror experiences were once only available in Japan, but now can be experienced in Hawaii. The Ghost Bus can also be driven to locations across Oahu, and made available for private parties and events, as well!
Once inside the bus, there is nowhere to escape. Are you brave enough to experience this? Come aboard, if you dare…

GHOST BUS HAWAII FACTS AT A GLANCE
GRAND OPENING:
Friday, October 29, 2021
TICKETS WILL BE AVAILABLE AT:
http://www.ghostbushawaii.com/
Advanced purchase highly recommended as tickets are expected to sell out daily.
LOCATION:
152 Ohua Avenue, Honolulu, HI 96815, on the corner of Kuhio and Ohua Avenues, across the Waikiki Beach Marriott Resort & Spa main entrance. No onsite parking. Public parking available at these locations:
https://www.waikikiimprovement.com/parking
SCHEDULE:
Check in time:
Must check in 10 minutes before reservation time.
Grand Opening – October 29, 30, 31: 1:00pm – 9:00pm
From November 1st, Mon-Fri 1:00pm – 8:00pm
Sat, Sun, and Holidays 1:00pm – 9:00pm
Schedule subject to change. Please refer to the booking page on the website for the latest updates.
COST:
$15.00 + Tax
$13.00 + Tax Kamaʻāina (with legal Hawaii photo I.D.)
Full charge for cancellations within 24 hours of tour time.
GROUP RESERVATIONS & PRIVATE EVENTS ARE WELCOME
Please contact:
Travel Plaza Transportation LLC
818 Pine Street, Honolulu, Hawaii 96817
808-534-3330
info@ghostbushawaii.com
REQUIREMENTS:
Must be 6 years old & up*
Children must be accompanied by an adult.
*We do not recommend this attraction for those with heart/blood pressure disorders, pregnancy or claustrophobia. Please read other warnings, rules and policies at https://ghostbushawaii.com/tours/, or call Travel Plaza Transportation at 808-534-3330.
COVID 19 RESTRICTIONS:
Currently, we only allow eight (8) customers at a time.
All customers ages 12 and older must show proof of full COVID-19 vaccination or a negative test result taken within 48 hours of entry, along with their photo ID, upon checking in.
Share the experience and spread the word!! Please tag #ghostbushawaii – mahalo!
GHOST BUS HAWAII PRODUCTION COMMITTEE
Created by: Zaunted Japan
Produced by: Zest Hawaii INC
Operated by: TPT Travel Plaza Transportation
Sponsored by: JTB Hawaii