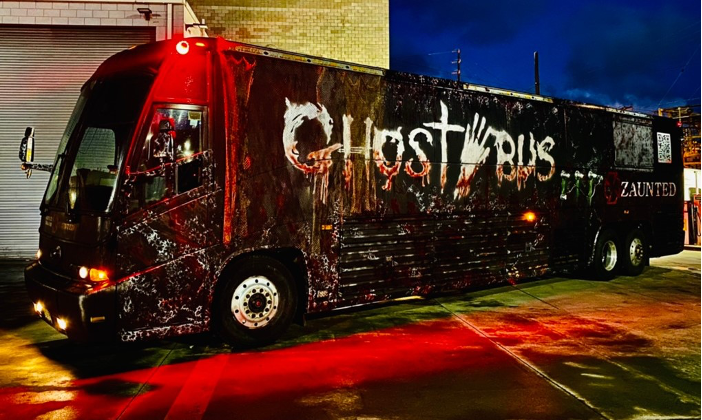 HONOLULU – With Halloween coming up, the thrills, chills, wide-eyed gasps, and screaming scary fun of Japan's Ghost Bus experience is well positioned to be one of the most popular haunts in Waikiki.
Those celebrating a birthday in October are in luck to receive complimentary admission to the Ghost Bus by entering the special promotional code "HBD" when booking a reservation online at https://ghostbushawaii.com/. Identification will be required upon check-in to verify the birth date. Blackout dates apply from October 20-31, 2022.
The Ghost Bus is a year-round thrill-seeking experience in Japan. Fans of horror films and zombie shows will find the Ghost Bus to be the ultimate haunted house on wheels, complete with sinister characters, ominous audio-visual sensory effects and an ever-present foreboding sense of fear and terror – all in the spirit of fun and creating memories to share with friends and family members. Throughout October, the Ghost Bus will be scaring the devil out of everyone seven days a week, Monday through Sunday, while parked in front of the Waikiki Beach Marriott Resort and Spa on the corner of Kuhio and 'Ohua avenues.
Presented by JTB Hawai'i, admission to the Ghost Bus experience is $20 ($15 for kama'aina) for ages 8-years-old and older. Each thrilling experience lasts about 15 to 20 minutes. Reservations for the Ghost Bus must be booked online at https://ghostbushawaii.com/.
"The Ghost Bus is an exciting experience that has been a favorite for people of all ages in Japan for many years," said Kenji Takahashi, general manager of Travel Plaza Transportation, a subsidiary of JTB Hawai'i. "This truly unique attraction presents a wonderful opportunity for friends and families to gather and have fun as we celebrate Halloween, which is one of my favorite times of the year."