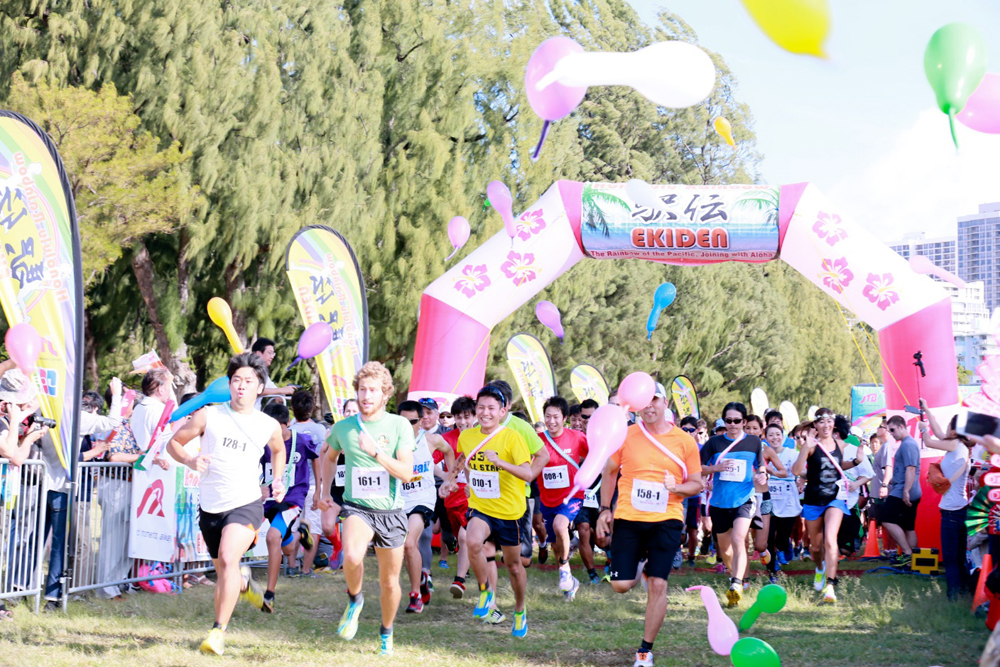 The Honolulu Rainbow EKIDEN, inaugurated in March 2013 as Hawaii's first public relay race for amateur runners, has been enjoyed by locals as a fun sport entertainment event. Although the 8th EKIDEN, which was scheduled to be held in March 2020, was cancelled due to the pandemic and the event has not been able to be held due to the prolonged implementation of pandemic control measures. Finally after five years, preparations are underway to hold the event in March 2024.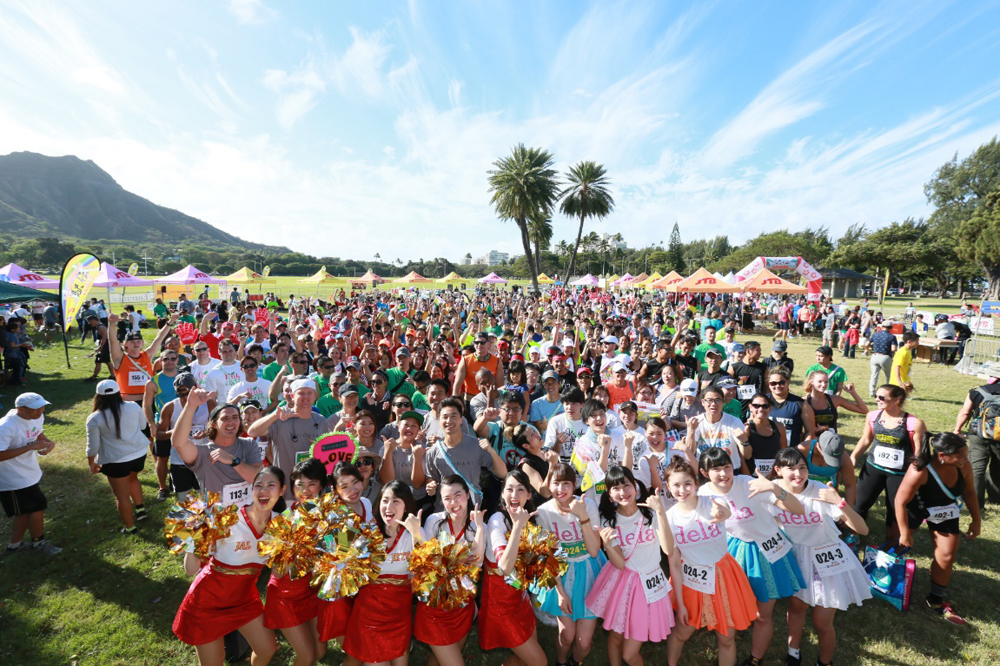 The 7th annual EKIDEN, held in March 2019, attracted more than 700 runners from 134 teams, as well as spectators who came to see the various performances, and cheer on their families and friends participating in the event. The event has become a favorite among local Hawaii residents, with everyone from young and elderly coming out to run and cheer on the runners.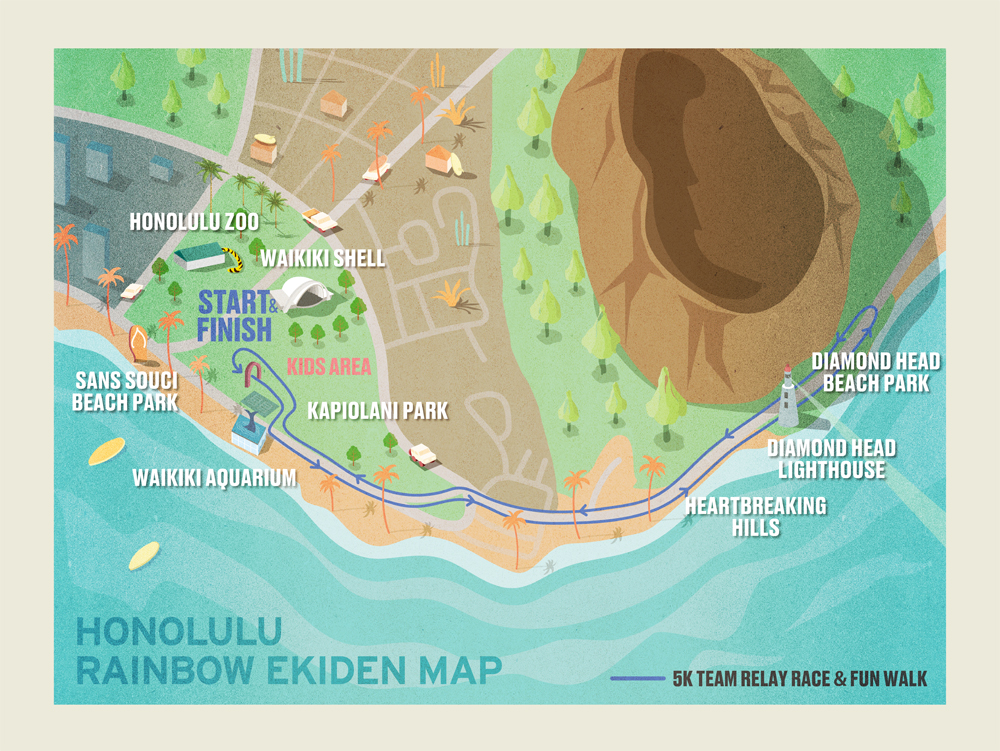 Starting at Kapiolani Park, located on eastern end of Waikiki, the 5 km course ascend Diamond Head Road and turn back at the lookout point overlooking the ocean. This course allows participants to fully experience the grandeur of Hawaii's natural beauty.

The appeal of the race lies in its loop course, enabling all runners to support and cheer fellow participants while waiting for their turn. Ekiden participants can be as young as 7 years old, and families are welcome to participate.

Additionally, a new kids' race, the 'Oli'oli Challenge, will be held in the kids' area for children 12 years old and younger.
Supporting Hawaii's educational facilities and sports programs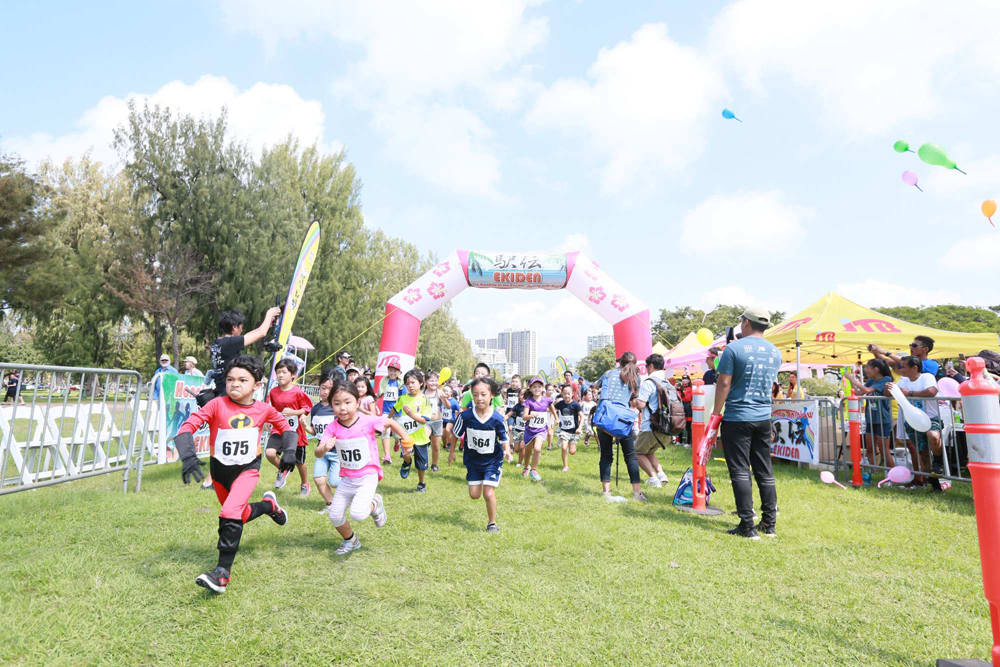 JTB Hawaii (event organizer), has decided to donate a portion of the entry fee to local educational facilities and organizations dedicated to promoting sports development in Hawaii. By receiving support from those who support the purpose of the EKIDEN event, we hope to provide more opportunity for people to engage in cross-cultural interactions through sports. The social responsibility of the JTB Group is to "strive to foster peace and global interconnectedness through the creation of opportunities for meaningful human interaction" which we believe is the very essence of sustainability.

The Honolulu Rainbow EKIDEN aims to contribute to society by creating opportunities for cultural interactions through sports, promoting health, revitalizing communities, and addressing societal challenges.
Accepting Donations for Maui Recovery Relief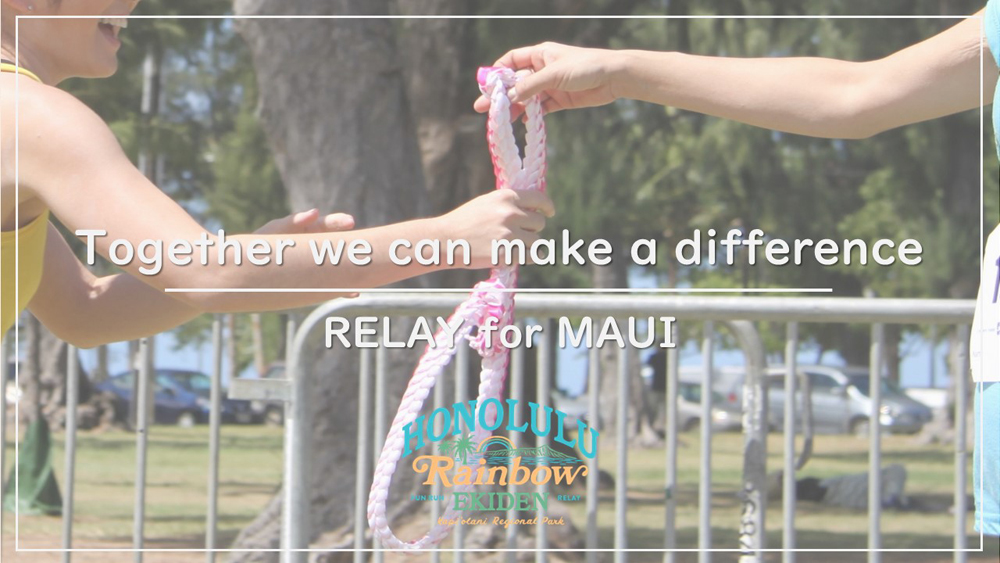 In the early hours of August 8, 2023, a massive fire occurred in the state of Hawaii, resulting in significant damage, particularly in the western region of Maui Island. The historic town of Lahaina, once the capital of the Kingdom of Hawaii, has suffered extensive destruction due to the impact of this catastrophic event. Our thoughts and condolences go out to all those affected by this disaster.

In order to expand the circle of support from participants and sponsors of the Honolulu Rainbow EKIDEN, we have initiated the collection of relief funds for Maui Island. Donations received from event participants and sponsors will be channeled through the JTB Goodwill Foundation, a non-profit organization in Hawaii. These contributions will be utilized for community relief efforts and reconstruction support in the schools and communities of western Maui.

The event will not deduct any administrative fees from the received donations; the entirety of the funds will be contributed to the local community for their benefit.
【HONOLULU RAINBOW EKIDEN 2024】
■EVENT : Honolulu Rainbow EKIDEN 2024
■LOCATION : Honolulu, HI
■Organizer : JTB Hawaii Travel, LLC
■Co-sponsor : JTB Corp.
■Sponsor :Honolulu Festival Foundation
■Date & Time : March 10, 2024 (Sun) 8:00AM start (10:00AM start scheduled for the Kids' Race)
■Course : Kapiolani Park – Waikiki Aquarium – Diamond Head Road (turnaround) – Kapiolani Park (approx. 5Kmx5 laps per lap)
■Homepage:
【English】http://rainbowekiden.com
【Japanese】http://rainbowekiden.jp

【JTB Goodwill Foundation】
The JTB Goodwill Foundation is a non-profit organization in Hawaii that aims to support cultural exchange and relationship-building between Hawaii, Japan, and countries in the Asia-Pacific region. In 2018, we donated $35,000 to students pursuing degrees in the tourism industry and hospitality at the University of Hawaii. In 2019, we contributed $30,000 to Hawaii Pacific University, and in 2021, we provided a scholarship of $40,000 to Kapiʻolani Community College. The relief funds collected through the Rainbow EKIDEN will be donated to the Public Schools of Hawaii Foundation, intended for use in community relief efforts and reconstruction support in the schools and communities of western Maui.