The JTB Goodwill Foundation is proud to announce the endowment of a $30,000 scholarship fund at Hawai'i Pacific University (HPU) benefitting students in the institution's Hospitality and Tourism Management program.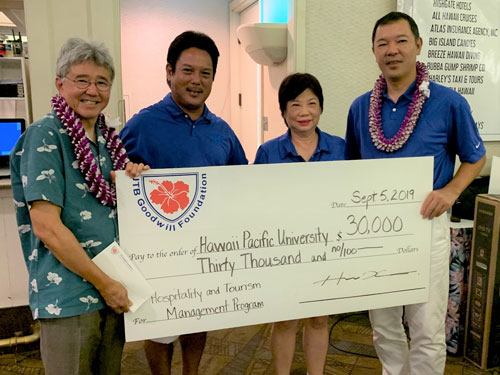 The announcement was made at the JTB Goodwill Foundation's 30th Annual Golf Tournament, a fundraiser to support the 501(c)(3) nonprofit organization's mission of supporting the exchange of cultural values and relationships between Hawai'i, Japan and other countries in the Asia-Pacific region.
"Providing meaningful support that can help students achieve their dreams of a career in the hospitality industry is a priority of the JTB Goodwill Foundation," said Hiroyuki "Keith" Kitagawa, president of the JTB Goodwill Foundation. "This endowment aims to build on our work in the community to support education and strengthen HPU's vision to continue providing a quality program that prepares students for a rewarding career in the visitor industry."
Kitagawa presented a check to HPU President John Gotanda at Hawai'i Prince Golf Club and explained the endowment was made in recognition of the annual golf tournament's 30th anniversary.
The scholarship fund will be managed by Hawai'i Pacific University.
"On behalf of our students, faculty and administration, I'd like to express my gratitude to the JTB Goodwill Foundation for its vision and generosity in creating this scholarship, which will make an incredible impact on our campus," Gotanda said. "Hawai'i's tourism industry is the heart and soul of our economy, so it is critically important that we keep the workforce pipeline strong for years to come.""
"HPU's Hospitality and Tourism Management concentration exposes students to all aspects of hospitality and tourism from a management focus. The courses combine theory and practice with opportunities for project-based learning, group projects, and field experiences to prepare students to be professional-ready global leaders in the field of hospitality and tourism. Additionally, 600 hours of work experience in the hospitality-related field is required."