JTB Hawaii Video Production and Shooting Services
From simple point-and-shoot to high-definition professional grade work (including 360°/VR videos)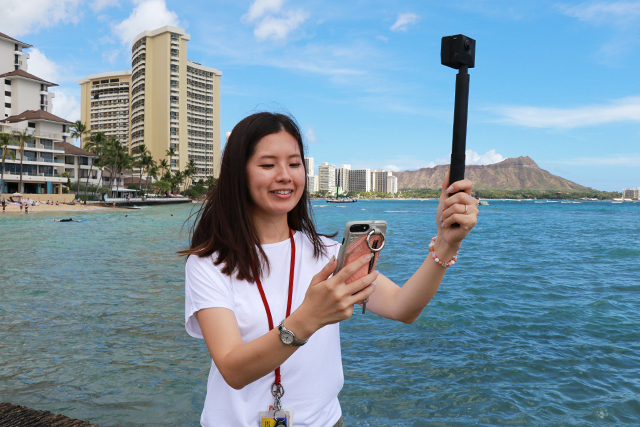 As the demand for digital-related services grow rapidly, we see more and more use of online media as well as virtual events. The movement to bring the foundations of daily life online, such as medical care, education, and work styles, are rapidly progressing, as with economic activities such as sales promotion, entertainment, and commerce and the demand will keep increasing.
The important elements developing new digital services are technology, ideas and above all, contents. Hawaii is surrounded by majestic natural beauty and relaxing environment which can be used as a digital service contents in many ways, and it is essential aspect to have when creating a new service contents.
Hawaii is a place that is close yet far. JTB Hawaii can provide the contents on your behalf and deliver the "Hawaii" that you are looking for.
From simple point-and-shoot to high-definition professional grade work

The options consist of a reasonable Lite plan, where a JTB Hawaii staff familiar with the location do a site visit and take footage using mobile phone or the company camera or High definition plan, where we hire a professional photographer for the requested footage. Just let us know your budget, content you are looking for and the content usage and we can work flexibly to your needs.
(Estimated price)
Lite plan * $ 800-2,000 (2 hours)
JTB Hawaii staff in Hawaii will shoot using a mobile phone or a company camera.
High quality plan * Depends on the content
Hire a professional photographer in Hawaii. JTB Hawaii staff will have a preliminary meeting with client and direct behalf of client on shooting day.
Abundance of filming experience including 360° videos, Virtual Reality, and Drone videos!

JTB Hawaii can also provide a wide range of shooting materials from still images, videos, 360° footage, virtual reality (VR) video, and if a specific equipment can be sent over, we can shoot the requested materials using the specified camera.
JTB Special Program! "Ocean Front Buffet Dinner at Pink Palace"
'Oli'Oli Ocean Sneaker
Hawaii's Best Spots: Enjoy the dean and mountains at Kualoa Ranch
Kaka'ako POW!WOW!HAWAII
(Reference)360° video shooting sample
Content Ideas:From virtual travel for long-term inpatients to new product launch events!
The following are some of the requests we have received from our clients.
Creating a virtual tour that fulfills the wishes of patients undergoing long-term medical treatment, "I want to see the beautify Hawaii ocean with my family again".
Development of online dolphin watching tours for elementary school students' summer vacation assignments.
Providing VR video materials for a new product launches event for product quality demonstration.
Online live ukulele performance at the beach during sunset.
Capture the Hawaii island starry sky observation movie on behalf of client.
Providing real estate inspection videos using 360° cameras.
Providing video materials for clients official corporate YouTube channel.
and more!
Bringing Customer Needs and Expectations to Reality!
Providing a one-stop promotion service with uniqueness of Hawaii's No. 1 travel company
That is the reason why customers choses JTB Hawaii. With more than 50 years of all travel related business experience in Hawaii, we will propose solutions that solve customers' problems by making full use of the know-how and network cultivated throughout the years.
If you have any questions regarding our video production and shooting services, please feel free to contact us.