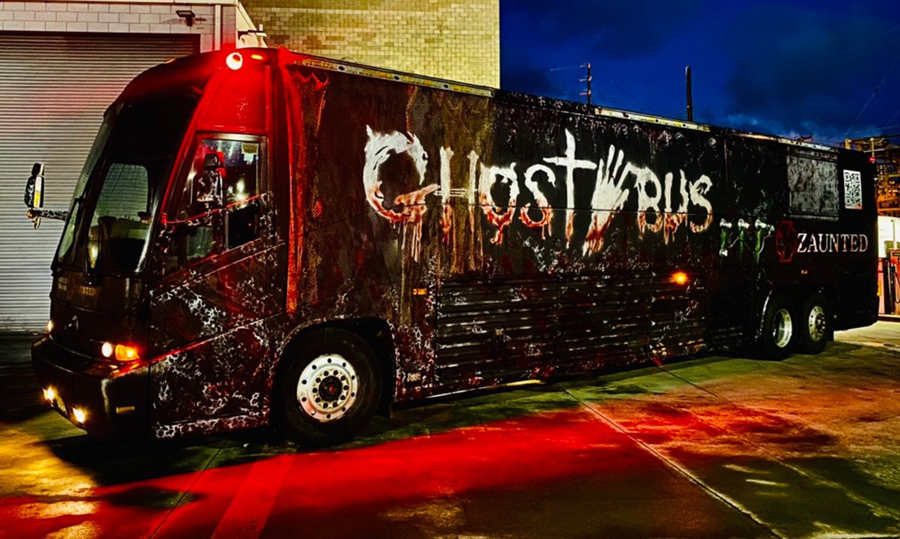 The thrills, chills, wide-eyed gasps, and screaming scary fun of 「Ghost Bus Hawaii」has restarted March 1 and will be available for everyone to enjoy in Waikiki through Halloween, including a special two-month engagement on weekends in Kapolei.
The Ghost Bus is a year-round thrill-seeking experience in Japan. Fans of horror films and zombie shows will find the Ghost Bus to be the ultimate haunted house on wheels, complete with sinister characters, ominous audio-visual sensory effects and an ever-present foreboding sense of fear and terror – all in the spirit of fun and creating memories to share with friends and family members.
From March 1 through April 29, the Ghost Bus will be operated on weekdays, Monday through Friday, while parked in front of the Waikiki Beach Marriott. Starting May 2 the Ghost Bus experience will be available daily through October 31, 2022.
In addition, on each weekend, Saturday and Sunday, during March and April and concluding on May 1, the Ghost Bus will be offering guests at Ka Makana Ali'i mall in Kapolei.
The Ghost Bus opened in Waikiki last fall but then closed temporarily in December to help prevent the spread of COVID-19, especially the highly infectious Omicron variant.
YouTube
TICKETS WILL BE AVAILABLE AT:
http://www.ghostbushawaii.com/
Advanced purchase highly recommended as tickets are expected to sell out daily.
LOCATION:
【Waikiki】152 Ohua Avenue, Honolulu, HI 96815, on the corner of Kuhio and Ohua Avenues, across the Waikiki Beach Marriott Resort & Spa main entrance. No onsite parking. Public parking available at these locations:
https://www.waikikiimprovement.com/parking
【Kapolei】Ka Makana Ali'i Mall, 91-5431 Kapolei Pkwy, Kapolei, HI 96707
SCHEDULE:
【Waikiki】1:00pm – 9:00pm / March 1 – April 29: Mon – Fri, May 2 – October 31: Daily
【Kapolei】3:00pm – 9:00pm / March 5 – May 1: Sat & Sun
Check in time:
Must check in 10 minutes before reservation time.
Schedule subject to change. Please refer to the booking page on the website for the latest updates.
COST:
$15.00 + Tax
$13.00 + Tax Kamaʻāina (with legal Hawaii photo I.D.)
Full charge for cancellations within 24 hours of tour time.
GROUP RESERVATIONS & PRIVATE EVENTS ARE WELCOME
Please contact:
Travel Plaza Transportation LLC
818 Pine Street, Honolulu, Hawaii 96817
808-534-3330
info@ghostbushawaii.com
REQUIREMENTS:
Must be 8 years old & up*
Children must be accompanied by an adult.
*We do not recommend this attraction for those with heart/blood pressure disorders, pregnancy or claustrophobia. Please read other warnings, rules and policies at https://ghostbushawaii.com/tours/, or call Travel Plaza Transportation at 808-534-3330.
COVID 19 RESTRICTIONS:
All customers ages 12 and older must show proof of full COVID-19 vaccination or a negative test result taken within 48 hours of entry, along with their photo ID, upon checking in.
Share the experience and spread the word!! Please tag #ghostbushawaii – mahalo!
GHOST BUS HAWAII PRODUCTION COMMITTEE
Created by: Zaunted Japan
Produced by: Zest Hawaii INC
Operated by: TPT Travel Plaza Transportation
Sponsored by: JTB Hawaii
http://www.ghostbushawaii.com/
@ghostbushawaii